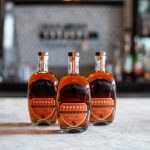 There's big news leaking out of Barrell Craft Spirits, but it seems whenever they release something new, it makes headlines — and for good reason! This time, it's the announcement of their first-ever Private Release Bourbon Series, which will debut as 49 different recipes in late November.
The Kentucky-based company known for sourcing and blending has selected bourbons of various ages from Kentucky, Tennessee and Indiana, and this new series will feature 49 cask-strength blends that'll be made only once. And in the name of full transparency, each blend number will have the recipe's ratios printed on its label.
"The Private Release Bourbon project was designed to synthesize a growing demand for exclusive store, group and state 'picks' with our belief that blending can make bourbons that span the greatest spectrum of flavor," said Barrell Founder Joe Beatrice in a news release. "Our Private Release program allows an entirely new set of options for those looking for unique and exclusive products."
Joe Beatrice credits his team of expert, forward-thinking blenders — which includes Chief Whiskey Scientist Tripp Stimson, National Director Will Schragisand and Assistant Blender Nic Christiansen — for creating some of the most creative blended bourbons on the shelf today.
According to the release, that means "sourcing the finest ingredients from around the world and using them to blend spirits that are far greater than the sum of their parts. It also means maximizing the best attributes of each element. Every component changes the overall character of these blends, as does the barrel in which each is aged. For those reasons, these whiskeys take months to polish and perfect."
Barrell has done similar releases with its Private Release Rum and Private Release Whiskey Series. Many of these are available only to retailers, bourbon clubs and whiskey aficionados, but some will be for sale to the general public.
Each recipe in the series, which will all be limited releases (roughly 150-180 bottles), will have its own distinct flavor profile. The SRP for the 750ml bottles is $109.99. Because some might only be available through private retailers or clubs, Barrell has created a list you can use to keep track of all 49 releases. May the hunt begin!
Check out barrellbourbon.com for more information.
The post Barrell Craft Spirits unveils its first Private Release Bourbon Series appeared first on The Bourbon Review.