The Bourbon Review Archives
From the blog
Bourbon Outfitter Bourbon Outfitter is offering Black Friday deals on both bottles of bourbon and bourbon merchandise all weekend long with their sale running from Friday 11/27/20 at 8:00 am to Monday 11/30/20 at 11:59 pm. Sale includes: -20% off all Merchandise including Pappy & Co., Buffalo Trace, Woodford Reserve Candy, and Bourbon Barrel Foods […]
The post Bourbon Black Friday Deals 2020 appeared first on The Bourbon Review.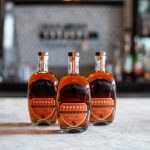 There's big news leaking out of Barrell Craft Spirits, but it seems whenever they release something new, it makes headlines — and for good reason! This time, it's the announcement of their first-ever Private Release Bourbon Series, which will debut as 49 different recipes in late November. The Kentucky-based company known for sourcing and blending […]
The post Barrell Craft Spirits unveils its first Private Release Bourbon Series appeared first on The Bourbon Review.
Recipe and photos by Woodford Reserve found here. FOR THE BRINE: (Measurements shown are for a 20-pound bird.) 2 Gallons of Water 1 cup salt 3 cups of sorghum 4 cups of Woodford Reserve Bourbon or Rye Whiskey 2 oranges, sliced peel and all 2 Tbsp. black peppercorns 12 bay leaves 6 cloves Combine all […]
The post Woodford Reserve Turkey Brine appeared first on The Bourbon Review.
The Bourbon Review Magazine
We are proud to be your leading source for information on Bourbon and American Whiskey. Print and digital subscriptions available.
SUBSCRIBE